Last week, Comcast hosted more than 80 students from College and Career High School in Albuquerque as a part of the 2020 Junior Achievement of New Mexico's 'Groundhog Job Shadow Week'. Over 20 Comcast employees volunteered their time to host job experience "stations" for students to learn more about functional areas at Comcast.
During the students' visit, they learned about a variety of different jobs and careers paths available at Comcast. The students met and spent time with leaders from sales & marketing, human resources, Comcast Business, Effectv, engineering, construction, external affairs, and technical operations. At each of these stations, leaders shared stories about their personal career journeys and offered career advice to each student.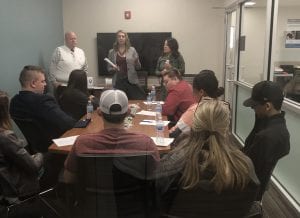 Comcast truly went above and beyond the Host Site expectations by providing students with guest speakers from six different departments, as well as a leadership panel," said Lindsay Humphries, Program Director of Junior Achievement of New Mexico. "Comcast employees demonstrated that the opportunities within Comcast are endless with a growth mindset! This was an excellent real-world experience for the students from College and Career High School and I look forward to working with Comcast again in the future."
Junior Achievement reports that after a job shadow experience, students better understand the importance of staying in school, are able to connect what they learned during a job shadow experience to real life, and believe that they are better prepared to research and recognize job opportunities.
Comcast is committed to providing skills that help individuals fully participate in the digital economy and we are very proud to support Junior Achievement of New Mexico in their mission to empower young people to own their future through programs like the Groundhog Job Shadow Day," said Chris Dunkeson, Area Vice President for Comcast in New Mexico and Arizona. 
As part of the event, Comcast shared information about our commitment to digital inclusion and Internet Essentials, the nation's largest and most comprehensive broadband adoption program. Each student received an Internet Essentials water bottle and one student went home with a free laptop computer.