During an inspiring virtual event, five student entrepreneur teams went head-to-head and pitched their big ideas to a virtual audience of investors, business leaders, entrepreneurs and enthusiastic supporters. The Comcast Pitch Deck Competition was co-hosted by UNM Rainforest Innovations and the UNM Innovation Academy, the University of New Mexico's technology-transfer and economic-development organization and entrepreneurial studies program. Sponsored by Comcast, the competition offered a platform for student entrepreneurs who want to start or are already operating an early-stage company to present and launch their innovations. Comcast provided a $20,000 prize pool for the five finalists who pitched their innovative ideas and early-stage companies to investor judges. The winners were:
First Place $10,000 Prize – Alexander Hafez, Circular Genomics – A circular RNA technology to help in the clinical fight against depression.
Second Place $5,000 Prize – Isabel Last & Miguel Roman, Faena – A research-based, intuitive video game to engage language learning for non-native speakers.
Third Place $2,500 Prize – Savannah Hoover, Modest House – An app to help millennials "Learn, Turn and Earn" in today's real estate market.
Finalist $1,000 Prize – Daniel Martinez, Omnos Sleep – An innovative device for the treatment of sleep apnea.
Finalist $1,000 Prize – Tina Memarian, Lamiflo – An innovative solution for ischemic strokes.
The Comcast Pitch Deck Competition was a great opportunity to get meaningful experience presenting to and answering questions from individuals who are business leaders in New Mexico," said Alexander Hafez, PhD student and grand prize winner. "I look forward using their feedback to help Circular Genomics grow into a successful business."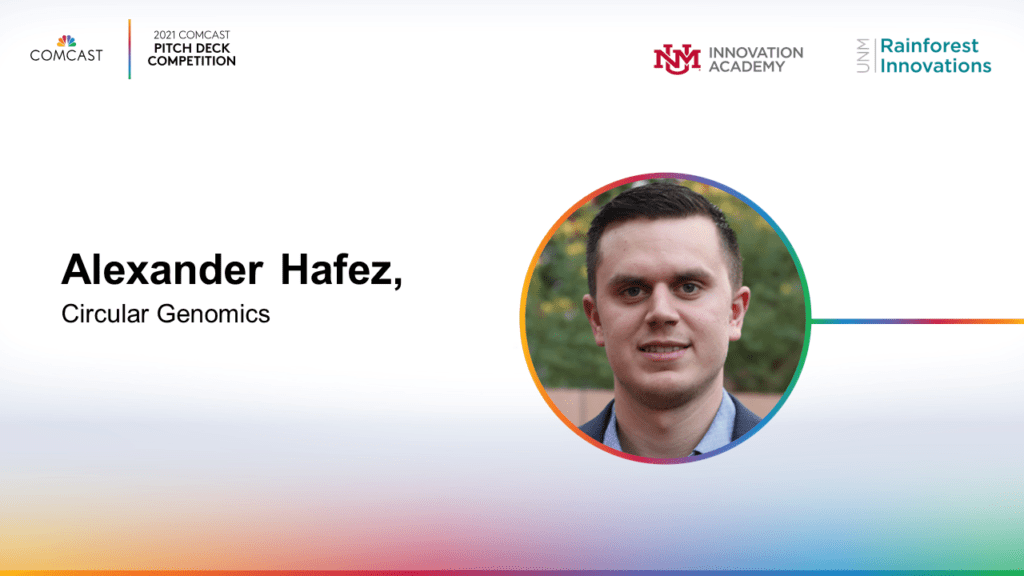 Pitch deck competitions go further than the typical elevator pitch by including visual representations and summaries for a new company, business plan or startup vision. The goals of a pitch deck are to spark interest from potential investors, meet investors and give entrepreneurs more experience presenting to audiences. Judges looked for quality of message delivery through non-verbal cues, (voice, eye contact, gestures, movement) and persuasive and creative content which "connects all the dots" toward commercialization.
I am so grateful to have participated in the 2021 pitch competition, and I am proud to have represented the UNM School of Law in the final five. Providing these spaces for innovation is so critical," said Savannah Hoover, Pitch Deck Participant and JD/MBA program student. "A huge thank you to the sponsors, show runners, and participants for such an engaging experience."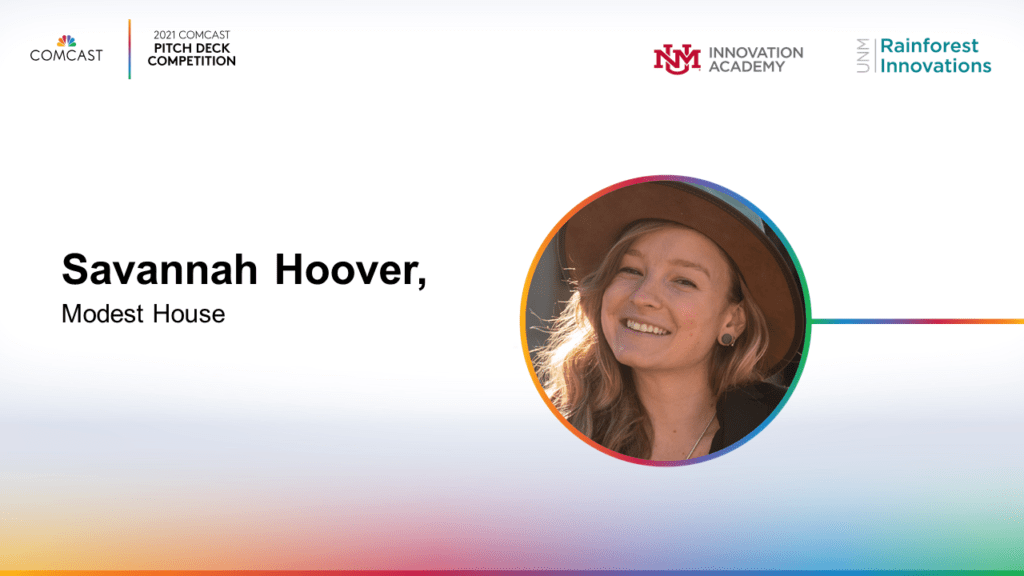 Comcast sponsored the
2019 Comcast Pitch Deck Competition
which awarded nearly $20,000 to five student entrepreneur teams.
Take a look back at the 2019 Pitch Deck Winners and Where They are Now.