"There is nothing about this job that I do not like," said David Swisher, Comcast Senior Trainer for New Mexico/Arizona and Marine Corps veteran.
David, who will celebrate 16 years of service with Comcast in February, has been a Senior Trainer with Comcast University for six years. David previously worked as a technician, in door-to-door sales, and in planning and design. As a Senior Trainer, David answers employees' questions, outlines customer service expectations and maintains an open dialogue with employees. He relies on those who have military experience to help him build confidence in new employees.
David training Comcast employees in the pole yard
David also serves as a volunteer leader for Comcast's Veteran Network. VetNet, a Comcast Employee Resource Group that is open to everyone, serves as a base of support for members in several ways, including a mentoring program and events focused on growing the professional and personal development of veterans and their allies.
"This is a big deal for veterans," he said. "Comcast understands their needs. Comcast is very good at taking care of those still in active duty and reservists and makes time for them to go do their duty."
Comcast has long valued the sacrifices and dedication of the men and women who serve in the military. Since 2010, Comcast has hired more than 15,000 veterans, National Guard and Reserve members, and military spouses across Comcast NBCUniversal. We are committed to military hiring because it strengthens our team and our long-standing support of military and veteran organizations across the country. Moving forward, Comcast NBCUniversal will hire an additional 11,000 military community members, bringing our total to 21,000 military hires by the end of 2021.
In addition to his dedication to Comcast, David has been married to his wife Mary for 19 years and they have four children, Shawn, an active Marine; Isaac, who serves in the Navy; Kirah, and Kyle. He is in the process of adopting his nephew Sterling, who has special needs.
David with his family
"The benefits (at Comcast) are absolutely amazing," David said, adding that Comcast offers an adoption assistance program and a tuition assistance program that helped him earn his bachelor's degree and is supporting him to earn his master's degree in education.
"I wanted to show my kids that it is possible to still go to school and be a lifelong learner," when asked what made him pursue a master's degree amid his already hectic life.
In honor of Veterans Appreciation Month, David shared more about how his military service has shaped his career at Comcast.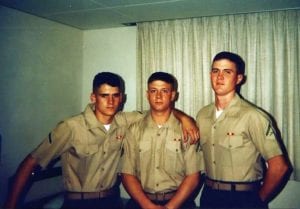 David (middle) while serving in the Marine Corps
Comcast: Why is it important for you to work for a company that values military hires?
David: It shows who the company is as a whole and shows they really value leadership and what military people can offer. Sometimes veterans need to come to a place that welcomes them and knows they will do their job.
Comcast: How has your military career and experiences shaped your ability to add value at Comcast?
David: The leadership qualities that the Marine Corps instilled in me overall: Be respectful and take initiative. Those leadership qualities help me show our new employees what we expect of them, how to act, and how to treat our customers. We want to make sure we take care of customers the best that we can.
Comcast: Two of your sons are in in the military. What do you hope they receive from it?
David: I hope they get that level of responsibility that I learned while in the service. Life leadership skills that everyone needs.
Comcast: How does Comcast encourage team members to stay with the company?
David: Overall, Comcast is a great place to work. The friendships you make here remind me of my relationships that I have from the military.