"Comcast helps you to be the best person you want to be," said Spencer DeBord, Northern New Mexico technical operations manager and 26-year Comcast veteran. The Southwest Cable Communications Association inducted DeBord into the Pioneer Hall of Fame in February.
The evening of his induction into the Hall of Fame consisted of sharing stories with the pioneers of cable service, and the night was the most memorable experience of his career, said the father of two and grandfather of two, adding his nomination was a shock.
"The members of the Southwest Cable Communications Association have contributed to the betterment of the cable business by growing it and changing it. To be added to that list means so much to me," Spencer said.
Having Chris Dunkeson, another Hall of Famer, at the event made it even more special for Spencer.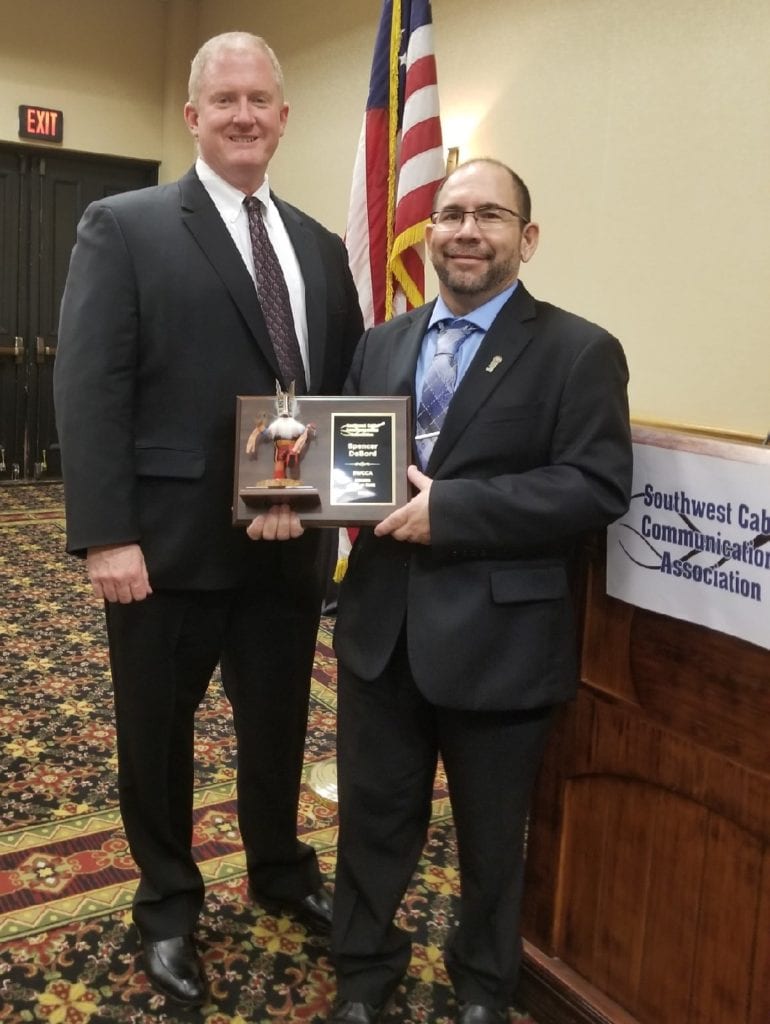 Spencer (right) with Chris Dunkeson at the Hall of Fame event in February
"Throughout his career, Spencer has driven technical advancement and network innovation, particularly in rural areas of New Mexico," said Chris Dunkeson, Comcast Area Vice President. "In addition to his technical expertise, Spencer is dedicated to improving his local community, volunteering his time year-round and during Comcast's annual day of service – Comcast Cares Day."
"Some of the people who are pioneers have mentored me. I try to do the same thing for my team that they do by inspiring other employees to be their best," Spencer said. "Unless you work at Comcast, you just don't know how great a place it is."
His list of impactful mentors also includes Martha Soehren, Chief Talent Development Officer and Senior Vice President for Comcast University. As the trainer of his leadership class, she helped him to communicate what needs to be done and done right to make a better customer experience.
"At Comcast, we work together to accomplish the common goal of making customers happy."
Beyond Spencer's contributions to the cable industry, he's also highly involved in Comcast community impact initiatives year-round.
Comcast: Spencer, you have been with Comcast for 26 years. You joined another company briefly, but then returned. That gives you a unique perspective. Tell me about that.
Spencer: In 2012, I was recruited by a communication cooperative looking for people with experience in fiber optics and TV.
I worked there for about a month, but then realized I missed Comcast and the Comcast family. This company didn't have the same focus on the customer. I missed the inclusiveness, diversity, family environment.
At Comcast, every day I would see the technicians in parking lot, laugh and joke. Everybody's happy. At the other company, I just didn't get the same vibe. I couldn't change the morale while I was there. After just an hour on job, I felt it, too. Everyone seemed unhappy. They didn't seem satisfied.
Comcast: You have been involved with Comcast Cares Day for some time. What draws you to this effort?
Spencer: The spirit of volunteering really excites me. I was involved in one of the first Comcast Cares Days as a project lead back in 2001 or 2002. Our team helped Tucumcari create an outdoor, nature classroom.
At that time, I didn't grasp what this day would become. My perspective now is that it is such an awesome way to give back over time. I see the difference it makes. To see people using what we built and then 10, 15 years later as adults they are volunteering makes it so satisfying.
Comcast: What will you be doing this Comcast Cares Day?
Spencer: In Santa Fe, we are going back to the Food Depot. They impact so many people —children in need, people who can't leave their homes and need the help of food delivery. In half an hour with 300 volunteers, we do what would take them 2-3 weeks of work. We unpack and repack food that the depot delivers.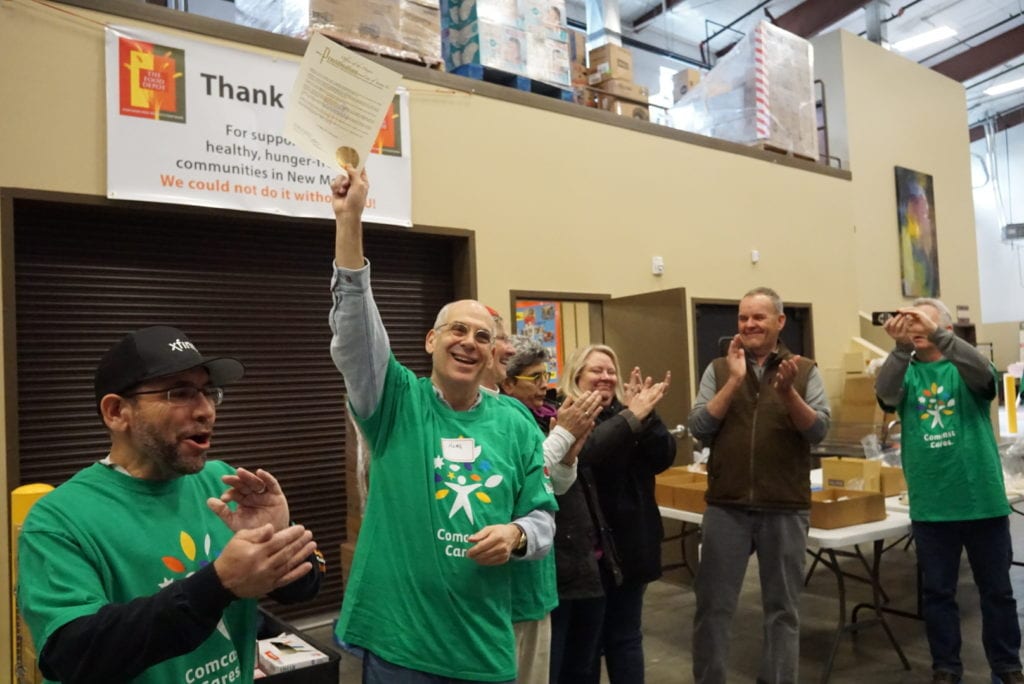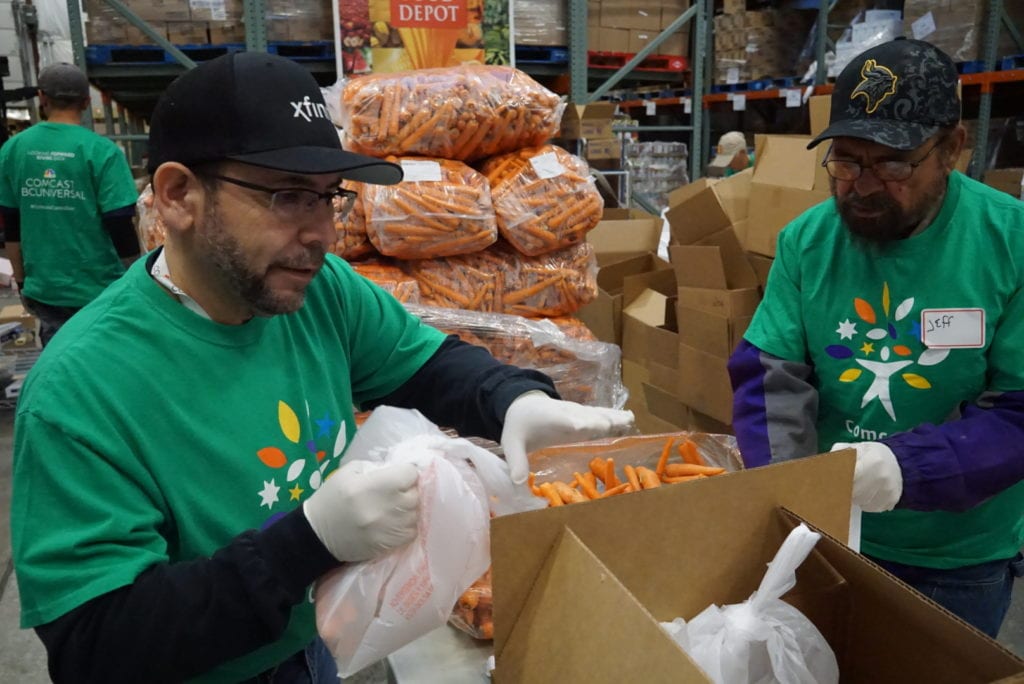 Spencer volunteering at the Santa Fe Food Depot on Comcast Cares Day in 2018
Comcast: What are other Comcast Cares Day projects you've worked on?
Spencer: In Portales we helped with the city youth recreation section. In Tucumcari we helped the Little League. Over seven to eight years, we built a complete baseball field, laid sod, put up scoreboards and fencing. This was a $40,000 investment into the facility, and the recreation department didn't have the funds. It's not about Comcast doing the work alone. Small businesses support the work. Volunteers brought tractors, donated the fence and sod. Lumber yards donated materials.
It's a good feeling, especially when employees get their families involved. My daughter still participates in the Tucumcari projects. My wife Jennifer is always alongside me; she's done it for so long she helps facilitate.
Comcast:  What do the Comcast values mean to you?
Spencer: Our Core Values are not only for the business but for living a decent life  We treat each other with respect, fairness and inclusion. We give back to our communities. Acting with integrity, I want to be treated right, and I am. I want to do the same for the people I work with. Also, I love being at the forefront of new technology that we're offering our customers and employees.
Comcast: What is your favorite New Mexican dish?
Spencer: Growing up and now carne adovada with fresh, homemade flour tortillas has always been my favorite.